2.14. BadFellas plugin
The Badfellas plugin subjects your organizations network traffic to scrutiny against millions of publicly blacklisted entities. If there is blacklisted activity detected :
an alert is raised
the internal host is flagged
the flow that caused the alert is flagged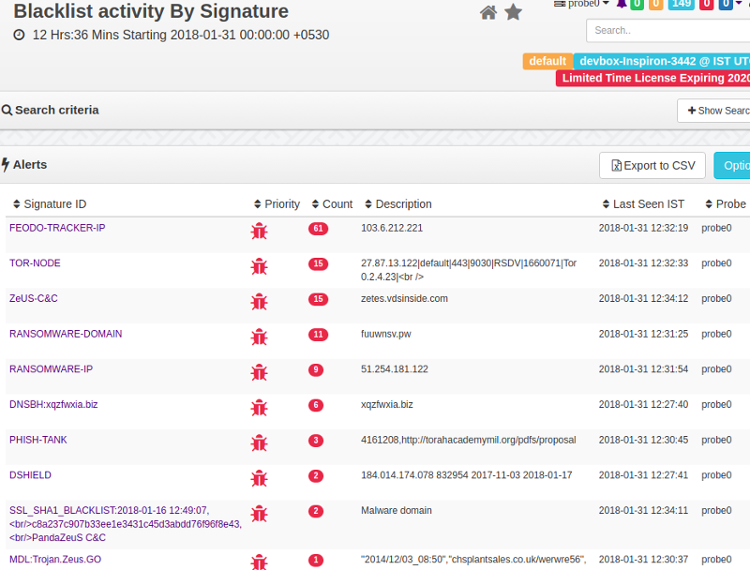 The following items in your network traffic are scrutinized.
IP address

Matches IPs against blacklisted IPs

Domain

Matches blacklisted domain names, even if no response was received, or hidden in DNS records

HTTP

Host

Checks if a HTTP host is blacklisted. Priceless when flagging shared hosts like badun.blogspot.com

URL

Checks HTTP GETs/POSTs of your network against well known evil ones
SSL

Certificate

Checks SHA1 fingerprint
For HTTP Host and URL matching to work, you need to enable TCP Reassembly
2.14.1 Location
In a file called PI-9FE3C6BC-BEB6-4320-A5BA-7993286D70DF.xml in /usr/local/etc/trisul-probe/domainX/probeX/contextX Use the cfgedit tool.
2.14.2 Blacklists
The Badfellas package installs stub copies of the following blacklists. Trisul includes the ability to keep them updated automatically, see next section.
Some lists include a premium feed. Please contact the list distributor directly.
Name
Type
Source
dns-blackhole.txt

DNS

blackhole list
malwaredomains.lehigh.edu List keeps track of domains known to propagate malware and spyware
dshield.txt
Malicious/scanner IPs
Dshield.org The well known

DSHIELD

list
feodotracker-ips.txt
IP Blocklist
feodotracker.abuse.ch contains IP addresses (IPv4) used as C&C communication channel by the Feodo Trojan.
malware-domain-list.txt
Malware domain + urls
Malware Domain List
Domains hosting latest malware
malware-url-domains.txt
Malware domains
Malware

URL

The MalwareURL Team is a group of Internet security experts dedicated to fighting malware, Trojans and a multitude of other web-related threats. Need subscription
malware-url-urls.txt
Specific malware

URL

Malware

URL

Contact them to get a feed Need subscription
phish-tank.txt
Anti phishing
Phish Tank User submitted known phishing domains
Quantcast-Top-Million.txt
Domains
Contains top domains list
Ransomware_DOMBL.txt
Domains
Ransomware Domain Blocklist show list of ransomware domain
Ransomware_IPBL.txt
IPs
Ransomware Domain IPs show list of ransomware IPs
Ransomware_URLBL.txt
URLs
Ransomware Domain URLs show list of ransomware urls
sslblacklist.csv

SSL

Blacklist

SSL

Blacklist contains list of bad

SSL

certificates
top-1m.csv
Domains
Contains top 1 million domains list
tornodes.txt

TOR

nodes

TOR

nodes Checks if any of your network hosts are involved in

TOR

proxy activitiy
zeustracker-domains.txt
Domains
Zeus Tracker domain contains list of bad domains
zeustracker-ips.txt
IPs
Zeus Tracker IPs contains list of bad IPs
2.14.3 Setup
Stop Trisul Before installing, upgrading, or uninstalling please stop Trisul.
Installation
This plugin is distributed as a RPM / DEB package.

# on centos
rpm -Uvh trisul_badfellas-1.0.153-0.el5.x86_64.rpm
# on ubuntu
dpkg -i trisul_badfellas-1.0.153.amd64.deb

Upgrading
After installation of a new Badfellas release you need to delete the active configuration file. This is located in /usr/local/etc/trisul-probe/domain0/probe0/context0/PI-9FE3C6BC-BEB6-4320-A5BA-7993286D70DF.xml When Trisul is restarted, the configuration is rebuilt.
A sample install
When you install you should get an output like the following.

[root@localhost share]# rpm -Uvh trisul_badfellas-1.0.153-0.el5.x86_64.rpm
Preparing...                ########################################### [100%]
   1:trisul_badfellas       ########################################### [100%]
Creating temp staging area..
Creating consolidated Bad Fellas Tokyo Cab ..
Processing File /tmp/temp_trisul_badfellas_staging/usr/local/share/BadFellas/dns-blackhole.txt..25270 entries
Processing File /tmp/temp_trisul_badfellas_staging/usr/local/share/BadFellas/malware-domain-list.txt.......134498 entries
[root@localhost share]#

Uninstallation
Stop Trisul and uninstall the RPM or DEB
 
# centos
rpm -e trisul_badfellas
# ubuntu
dpkg -r  trisul_badfellas

Starting
Once installed, the plugin will be effective the next time you restart Trisul.
Updating database
The plugin will automatically download a fresh database at a set schedule. You can control when and how frequently this database is updated. See the Badfellas Malware section in the User Guide for more details.
2.14.4 Adding custom indicators into Badfellas blacklists
Step 1 : Create Tab Separated Indicator file
Using external mechanism place your custom feed in a Tab Separated file with the following format <FEEDNAME><TAB><IP/DOMAIN/URL><TAB><DESCRIPTION>
Step 2 : Add your file as a source feed for Badfellas automatic updates
Edit the badfellas configuration file.

cd /usr/local/share/trisul-probe
./cfgedit
.. select badfellas

Add your file as a source feed to the automatic updates section in /usr/local/etc/trisul-probe/domain0/probe0/context0/PI-9FE3*.xml

    <!-- ***************************************************************** -->
    <!--    Local feed                                                     -->
    <!--     Any file named badfellas-local-*.tsv  will be processed       -->
    <!--     The file is a TAB separated file with the following fields    -->
    <!--     INTELSOURCE<TAB>KEY<TAB><DESCRIPTION>                         -->
    <!--     KEY = IP Address, Domain Name, URL                            -->
    <!-- ***************************************************************** -->
    <Source>
        <URL>file:///usr/local/share/trisul/plugins/badfellas-local.tsv</URL>
        <Target>badfellas-local-0.tsv</Target>
    </Source>

In the above snippet – the URL file://.... badfellas-local.tsv represents the source feed. Change it to your file or URL if you are hosting it on a website. The feed will be automatically refresh like the other sources.
Restart Trisul or wait for about 30 minutes for the feed to be picked up