We are pleased to announce a new release of Trisul Network Analytics. (Release Date Mar 26 2021, Trisul Probe 6.5.3031, Trisul Hub 6.5.2914, Web Trisul 6.5.2300)
Improved Netflow Routers and Interfaces
Many of our customers demanded better support for routers that supported thousands of interfaces particularly PPPoE. The new feature use a pagination, filter box, and interfaces-per-page technique to deliver an outstanding scalable experience.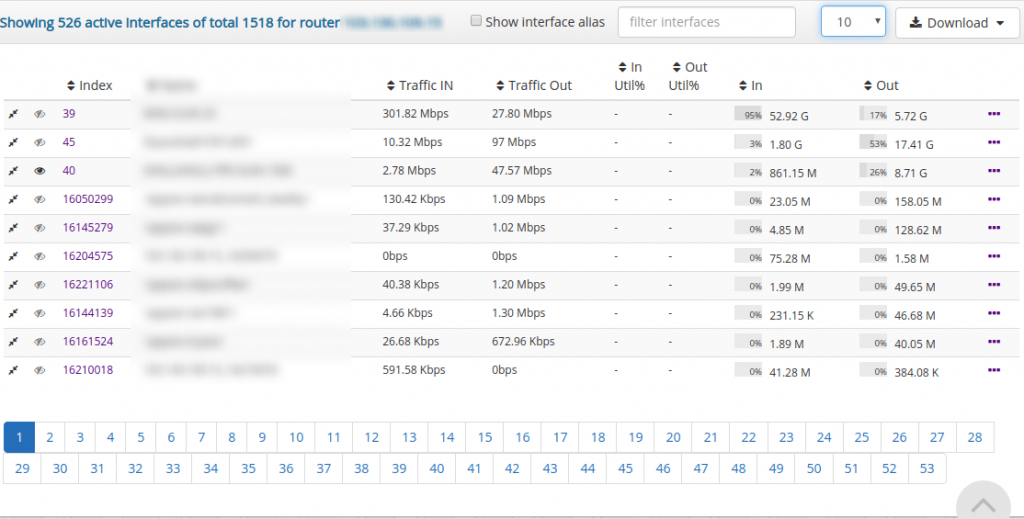 Full support for Huawei interface mapping quirks
A big part of supporting Netflow is dealing with vendor quirks. The network interface-index found in Netflow records is sometimes not found in the SNMP ifTable. This causes endless confusion in our customers. This release adds the required support for the MIB that maps the two interface numbers. Those customers using Trisul to monitor Huawei gear will find this support essential.
DR node status in High Availability mode
Allows the adminstrator user in high availability mode to confirm if the DR (Disaster Recovery Backup) node is updated with the latest datapoints. This can now be done from the Primary node admin console itself.
Other key features
New PDF reports now allows you to select multiple network interfaces and schedule reports for the same. The reports contain traffic data as well as top hosts and top apps on each selected interface.
The following high priority bug was fixed. Under heavy load the backend query process trisul_trpd can leak memory. This happens when there are a large number of simultaneous users.
Full release notes
Full release notes can be found at http://forums.trisul.org/d/84-new-release-26-mar-2021-featuring-better-netflow-support