Trisul Network Analytics Feature Tour
Trisul Network Analytics is a integrated platform for monitoring your network traffic from multiple angles.  Trisul presents our customers with a reliable source of truth for any visibilty, detection, or investigation application.  Check out the quick feature tour below to find out more about how we do it.
Minimize blind spots with hi-res monitoring
Do you know that you saw a never before seen TLS Certificate type today? Do you even know how much of your traffic is TLS 1.3 vs older versions? Do you know how many internal hosts are active at the moment?   These are blind spots you get when you deploy legacy monitoring tools. Trisul runs your packets and netflows through a real time streaming analytics pipeline containing dozens of analytics algorithms which pull out hundreds of such metrics.  You can write your own analytics using our LUA API too.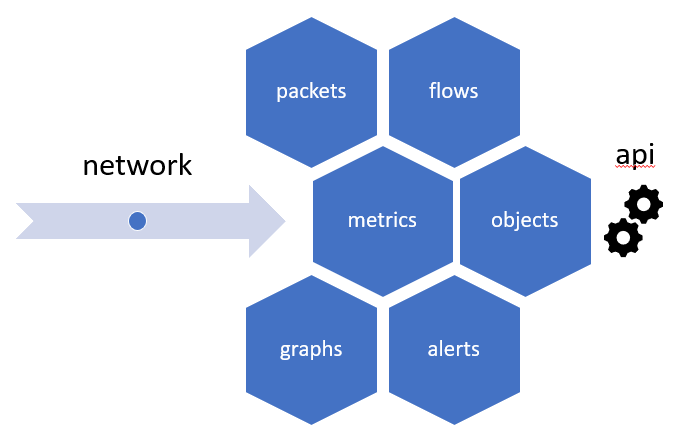 Tech highlights
Trisul integrates a number of network monitoring technologies on a single platform.  Find out in which class of products comparable features can be found.
| | | |
| --- | --- | --- |
| | | Compared to other network monitoring solutions |
| Available as software package, Docker image, hardware appliance | | Common in other tools too |
| Basic traffic monitoring like bandwidth usage , top IPs, apps | | Usually found in SNMP based tools |
| Advanced metrics across Layer 2 to Layer 7 | | No comprehensive solution. Some tools generate limited visibility from logs. |
| | | Trisul is the only product offering an fully open API for analytics and queries |
| Integrated packet storage | | Usually found in standalone appliances in a different platform |
| Large scale data handling and lossless historical queries | | Most offererings roll up timeseries metrics and truncate full flow storage to keep their database size compact. |
| Deep Integrations with IDS/IPS/Firewall logs enrich the metrics and flows. | | Usually standalone products, integrations may be limited to viewing on a single dashboard. |
| | | Not found in other network monitoring products today |
| Large scale Netflow/SFLOW monitoring | | Commonly found as add-on modules to basic enterprise SNMP monitoring solutions. |
| Trisul includes eveything you need including a purpose built database backend and runs on Linux | | May have to acquire OS and database licenses separately |